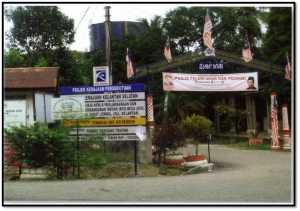 Sila klik pada gambar untuk mendapatkan imej yang lebih jelas.
Kampung Bukit Jering Homestay, Jeli Kelantan.
Kampung Bukit Jering Homestay is the first homestay in Jeli, and is conveniently located on the main road, and accessible by public transport from nearby Jeli town. This village has been orderly developed while retaining the elements of the local community's traditions. Most of the residents come from villages around Jeli. All necessary infrastructure is provided for here including roads, mosques, civic halls etc.
The quaint layout of the village together with its solid infrastructure support helps make this homestay a success. But above all, it is the sincere warmth and friendliness of the people here which draw visitors to return time and time again.
For reservations, call: Puan Ramlah binti Hj. Hamat : 012-2048876 / 03-80230848 Hj. Hamat bin Mat Jaih : 019-9041774 / 09-9361241