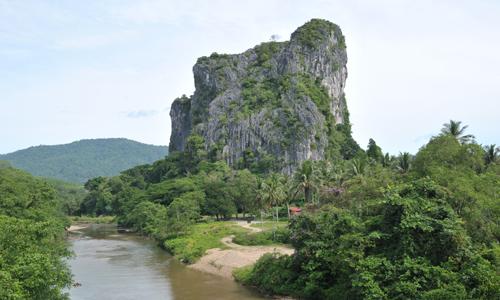 Mount Reng is located on a site originally known as Tala Village, which was opened by Tok Tadoh of Pulang Hari origin in Jawa some 1,400 years ago. Legend has it that the Tala Village Chief held a big feast for seven nights with many types of games played throughout. At the end of the weeklong celebrations, the villagers agreed for a final game to be played; a dog and cat fight held on a roof.
During the Zohor prayer time as the animals fought, a very heavy thunderstorm occurred. As heavy rains fell, an old lady and her grandchild ran to the nearby village of Gantung to store rice which was left to dry in the open. As soon as all the rice was stored, the storm had passed. SO the old lady returned to Tala. Lo and behold, instead of her beloved village, and mountain now stood on the site, with no sign of the village.
The mountain in question was said to have originally been situated at the base of Reng River, roughly a three days journey away, on the Kelantan/Perak border. A lake had formed where this mountain once stood. SO the mountain was named after the river by which it once stood. Mount Reng is spotted with natural room-size caves, among them Bedak Cave, Payong Cave, Kaca Cave, Rimau Cave and Batak Cave. Once you enter the main gateway of Payong Cave, you can follow a trail stringing together all these room-like formations, all the way to the precipice, and on to the peak of Mount Reng.